WHY to BUY
ResMed Auto-CPAP : # 38113 AirMini Autoset
Manufacturer:

---

Model:

AirMini Autoset

---

Product Code:
RM-38113

---

Availability:

In stock, available for the same day shipping (only 26 left).

---

Catalog Price:
Online Price:

$ 2,200.00




$1,020.00




---

---

Quick Links
Product Overview
This unit does NOT support an adapter for any other mask.
Achieving new heights in patient-centered innovation, AirMini packs ResMeds clinically proven CPAP (continuous positive airway pressure) technology along with its comfort and ease-of-use features into a sleek, portable, pocket-sized device ideal for traveling.
The AirMini is available with ResMeds proprietary AutoSet functionality as well as an innovative, built-in humidification system for patient comfort. AirMini weighs a mere 0.66 pounds (300 grams) and measures just 5.4 x 3.3 x 2 in (13.6 x 8.4 x 5.2 cm).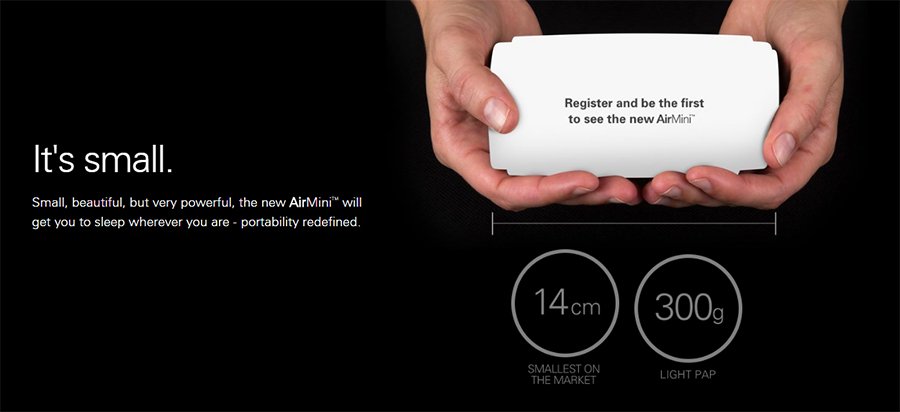 The ResMed AirMini has redefined CPAP therapy providing patients with peace of mind, knowing they can easily get ResMed-quality therapy wherever they are, said Mick Farrell, ResMed CEO. CPAP is now more portable and accessible than ever before. I have been traveling all over the world with a prototype of the AirMini system, using AutoSet, humidification, and an AirFit P10 pillows mask, and it has changed my travel life. I am so excited to see that this technology is now available to many millions of sleep apnea patients.



In a recent survey, 65% of CPAP users said device size is the #1 reason they don't take their CPAP every time they travel, breaking the cycle of adherence and exposing themselves to sleep apnea chronic effects: they stop breathing repeatedly throughout the night, unconsciously transitioning between moments of sleep suffocation and jolts of awakening to resume breathing.




This may cause dangerous levels of daytime fatigue and raise the risk of developing other fatal conditions like type 2 diabetes and heart failure.




AirMini comfort and ease-of-use features are ideal for patients and for home medical equipment providers who will benefit from the device as a growth driver for their business: A phone app (iOS and Android) for patients to change comfort settings and track their own nightly usage data, a practice that shown to increase compliance and health outcomes.




Portable and convenient waterless humidification to maximize comfort, capturing a patient's exhaled heat and moisture with a HumidX humidifier in the mask tube and redelivering it to them.



Compatibility with ResMed AirFit N20 nasal and F20 full face masks ONLY, easy for home medical equipment providers to fit on a wide range of patients (an unprecedented 99 and 97 percent of patients, respectively) as well as a special AirMini version of the award-winning AirFit P10 nasal pillows mask.



Please Note: OHIP & ADP funding are NOT AVAILABLE FOR THIS UNIT.


Key Points:



AirMini is the world's smallest CPAP weighing 300g (0.66lbs)!! A true travel CPAP




AirMini has 3 modes built in CPAP, AutoSet, AutoSet for Her (4-20cmH20 range of pressure)




AirMini has all the comfort features you are used to in a CPAP - EPR, Ramp, AutoRamp, Response




AirMini incorporates ResMeds new ActiveAir venting technology and waterless humidification with HumidX




AirMini works with ResMed's newest masks: AirFit P10, AirtFit N20, and AirFit F20




AirMini has built-in Bluetooth and works with the AirMini APP (available on the APP store and Google Play)





Service & Support
Replacement Parts
Part #
Description
Price
RM-38816
AirMini Filters
12/pk
Catalog:

$48.00


Online: $36.00

RM-38815
AirMini Filters
2/pk
Catalog: $9.60

RM-38813
AirMini HumidX Plus
6/pk
Catalog: $72.00

RM-38812
AirMini HumidX Plus
3/pk
Catalog: $30.00

RM-38810
AirMini HumidX Standard
6/pk
Catalog: $52.00

RM-38809
AirMini HumidX Standard
3/pk
Catalog: $27.50

Accessories
Part #
Description
Price
RM-38824
AirMini P10 Mask pack, includes P10 mask for AirMini

Catalog: $195.00

RM-38823
AirMini N20 Setup Pack, does not include mask

Catalog: $52.00

RM-38825
AirMini F20 Setup Pack, does not include mask

Catalog: $52.00

RM-38840
AirMini Premium Carry Bag

Catalog: $75.00

RM-38841
AirMini Hard Travel Case

Catalog:

$45.00


Online: $35.00

RM-38842
AirMini Mount System

Catalog:

$75.00


Online: $55.00

RM-38839
AirMini DC/DC Converter

Catalog:

$135.00


Online: $112.00

Packing List
| | |
| --- | --- |
| | 1 machine with carry bag (more to be described soon) |
The manufacturer recommends that new patients purchase their devices, masks and initial accessories from a homecare company that can provide an individualized patient equipment setup, clinical and after-sales support, and a program to assist patients with therapy success.
CPAP Clinic meets this set of requirements by providing you with the following services:
at-home visit for personal assistance and training
unlimited toll-free telephone support before and after sale
unlimited email support before and after sale
appropriate CPAP and Auto-CPAP set-up according to prescribed pressure setting
CPAP Users Testimonials
Service Excellent
Je suis de la regions de montréal et tout les fournisseurs de machine CPAP sont très dispendieux (2000$ et +) pour le meme équipements. J ai eu cette référenca par une amie, j hésitait à acheter une machine sur internet car c était ma première machine et je ne savait pas vraiment comment cela allait fonctionner. Pour 700$ de moins je me suis essayer ! ils ont répondu a toutes mes questions rapidements et je peux vous dire que j en était gêner de poser autant de questions mais les réponses était clairs et precise et ils m ont fait sentir que ca leur fesait plaisir de me répondre ! La machine à été pré-programmer selon ma prescription, envoyer la journée meme que j ai passer la commande, super service et très rapides. Même un fois la machine recu, j avais d autres question et ils se sont fait un plaisir de m y répondres. Mon pneumologue as pris en notes les informations afin de pouvoir referrer les personnes qui n ont pas d assurances ! Félicitation a toute l équipe !
Martin Mirabel

---

Great Customer Service
I tried the CPAP machine but it was very uncomfortable for me, I discontinued use and now seeking alternative to my sleep apnea. However, I must recommend the CPAP clinic, it is a company with great staff members top-down. I got a lot of encouragement and support on the use of my CPAP machine, I returned the trial machine late yet in the midst of all that, they were so nice and friendly, considered my plea to wave the charges which I deserved. They listen to the customers, the store is very clean and welcoming. I strongly recommend this clinic!
Chidinma Milton

---

Great Service
Ever since my husband needed a C-Pap, we have been customers. Fantastic service and communication. Very individual help. Highly recommended. My last interaction with them was very satisfying.
Marianne van den Heuvel Vernon

---


READ MORE TESTIMONIALS ...
---
---
Join Our Social Network!!!
and you can share your experience there...

&nbsp
If you have any questions, please don't hesitate to contact us,
Call: 1-877-430-CPAP(2727) or Email: info@cpapclinic.ca
Locations &
Store Hours
Mon-Fri:

9am-9pm

Saturday:

10am-3pm

* 6200 Dixie Rd., Unit #102 Mississauga, ON, L5T 2E1

---

---------------------------------------

---

Mon-Fri:

9am-7pm

Saturday:

10am-3pm

Sunday:

CLOSED

* 1110 Sheppard Ave East, Unit #13 Toronto, ON, M2K 2W2

* 644 Millway Ave, Unit #4 Vaughan, ON, L4K 4H4

Online: 24/7 - Order Anytime
Don't Ignore the Snoring...
Do You Snore? Are you always tired? ... it's time to assess your Sleep Apnea
| | | |
| --- | --- | --- |
| | | |
| | This disinfector which is capable to kill various bacteria and viruses inside the CPAP machine. | |
| | | |