WHY to BUY
ResMed Auto-CPAP : # 380014 AirMini Autoset including P10 CPAP Mask
Manufacturer:

---

Model:

AirMini Autoset including P10 CPAP Mask

---

Product Code:
RM-380014

---

Availability:

In stock, available for the same day shipping (only 1 left).

---

Catalog Price:
Online Price:

$ 2,200.00




$1,200.00




---

---

Quick Links
Product Overview
This unit does NOT come with an adapter for any other mask.
Achieving new heights in patient-centered innovation, AirMini packs ResMeds clinically proven CPAP (continuous positive airway pressure) technology along with its comfort and ease-of-use features into a sleek, portable, pocket-sized device ideal for traveling.
The AirMini is available with ResMeds proprietary AutoSet functionality as well as an innovative, built-in humidification system for patient comfort. AirMini weighs a mere 0.66 pounds (300 grams) and measures just 5.4 x 3.3 x 2 in (13.6 x 8.4 x 5.2 cm).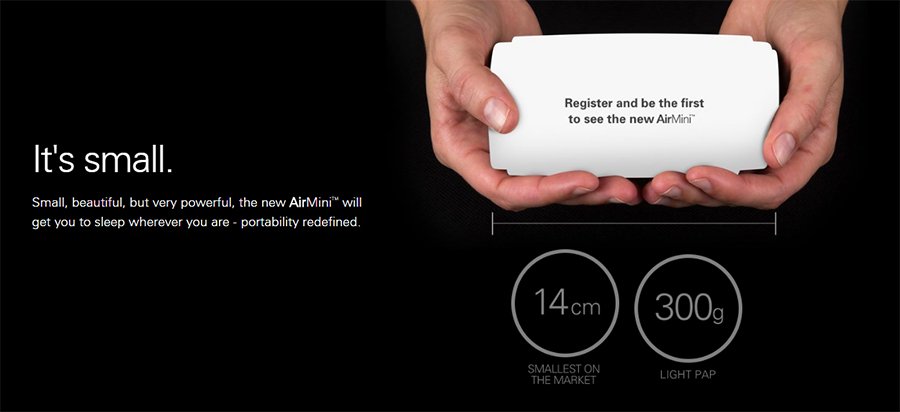 The ResMed AirMini has redefined CPAP therapy providing patients with peace of mind, knowing they can easily get ResMed-quality therapy wherever they are, said Mick Farrell, ResMed CEO. CPAP is now more portable and accessible than ever before. I have been traveling all over the world with a prototype of the AirMini system, using AutoSet, humidification, and an AirFit P10 pillows mask, and it has changed my travel life. I am so excited to see that this technology is now available to many millions of sleep apnea patients.



In a recent survey, 65% of CPAP users said device size is the #1 reason they don't take their CPAP every time they travel, breaking the cycle of adherence and exposing themselves to sleep apnea chronic effects: they stop breathing repeatedly throughout the night, unconsciously transitioning between moments of sleep suffocation and jolts of awakening to resume breathing.






This may cause dangerous levels of daytime fatigue and raise the risk of developing other fatal conditions like type 2 diabetes and heart failure.




AirMini comfort and ease-of-use features are ideal for patients and for home medical equipment providers who will benefit from the device as a growth driver for their business: A phone app (iOS and Android) for patients to change comfort settings and track their own nightly usage data, a practice that shown to increase compliance and health outcomes.




Portable and convenient waterless humidification to maximize comfort, capturing a patient's exhaled heat and moisture with a HumidX humidifier in the mask tube and redelivering it to them.



Compatibility with ResMed AirFit N20 nasal and F20 full face masks ONLY, easy for home medical equipment providers to fit on a wide range of patients (an unprecedented 99 and 97 percent of patients, respectively) as well as a special AirMini version of the award-winning AirFit P10 nasal pillows mask.



Please Note: OHIP & ADP funding are NOT AVAILABLE FOR THIS UNIT.


Key Points:



AirMini is the world's smallest CPAP weighing 300g (0.66lbs)!! A true travel CPAP




AirMini has 3 modes built in CPAP, AutoSet, AutoSet for Her (4-20cmH20 range of pressure)




AirMini has all the comfort features you are used to in a CPAP - EPR, Ramp, AutoRamp, Response




AirMini incorporates ResMeds new ActiveAir venting technology and waterless humidification with HumidX




AirMini works with ResMed's newest masks: AirFit P10, AirtFit N20, and AirFit F20




AirMini has built-in Bluetooth and works with the AirMini APP (available on the APP store and Google Play)





Service & Support
Packing List
| | |
| --- | --- |
| | (1) complete AirMini and (1) P10 mask w/ small, medium, large pillows and (1) p10 adapter |
The manufacturer recommends that new patients purchase their devices, masks and initial accessories from a homecare company that can provide an individualized patient equipment setup, clinical and after-sales support, and a program to assist patients with therapy success.
CPAP Clinic meets this set of requirements by providing you with the following services:
at-home visit for personal assistance and training
unlimited toll-free telephone support before and after sale
unlimited email support before and after sale
appropriate CPAP and Auto-CPAP set-up according to prescribed pressure setting
CPAP Users Testimonials
Appreciation
Reflecting on my angst of purchasing products from a non Canadian company I decided to Google CPAP products. To my delight I located CPAPClinic.ca I telephoned and chatted with a young lady, Julie Benson. Directions were provided from my abode in Mount Forest Ontario and I arranged a rendezvous on a Saturday. The warm and professional greeting was obviously a sign the young ladies enjoy what they are doing. After a few moments with Ms. Benson, my queries centered on some technical data and she invited Ms. Santos to provide the information. I was quite impressed with Ms. Santos professionalism, knowledge and recommendations. I did not feel pressured or rushed. I have the items I ordered and will place all future orders through this company. Both of these ladies are excellent ambassadors for CPAP Clinic and they are jewels as front line personnel for this organization. Robert Plamondon Mount Forest Ontario
Robert Plamondon Mount Forest Ontario

---

I bought a Medistrom Pilot-12 battery to run my CPAP on the plane. I had to ask questions by email to choose my battery before purchase. The responses were returned quickly and were perfect . My online purchase was delivered very quickly and exactly meets my expectations.
Pierre Morency Prévost

---

Resmed AirMini Autoset
This travel unit is amazing ! Small, light and efficient. Quick and easy set up. Bluetooth connected immediately with no issue. Helpful phone app that gives you a sleep score each night. I am so happy that the folks at the CPAP Clinic exchanged the Z1 I originally purchased for this unit. Thank you !
Jeff BC

---


READ MORE TESTIMONIALS ...
---
---
Join Our Social Network!!!
and you can share your experience there...

&nbsp
If you have any questions, please don't hesitate to contact us,
Call: 1-877-430-CPAP(2727) or Email: info@cpapclinic.ca
Locations &
Store Hours
Mon-Fri:

9am-9pm

Saturday:

10am-3pm

* 6200 Dixie Rd., Unit #102 Mississauga, ON, L5T 2E1

---

---------------------------------------

---

Mon-Fri:

9am-7pm

Saturday:

10am-3pm

Sunday:

CLOSED

* 1110 Sheppard Ave East, Unit #13 Toronto, ON, M2K 2W2

* 644 Millway Ave, Unit #4 Vaughan, ON, L4K 4H4

Online: 24/7 - Order Anytime
Don't Ignore the Snoring...
Do You Snore? Are you always tired? ... it's time to assess your Sleep Apnea
| | | |
| --- | --- | --- |
| | | |
| | This disinfector which is capable to kill various bacteria and viruses inside the CPAP machine. | |
| | | |